Willis Towers Watson (NASDAQ: WLTW) is a leading global advisory, broking and solutions company that helps clients around the world turn risk into a path for growth. With roots dating to 1828, Willis Towers Watson has over 40,000 employees serving more than 140 countries.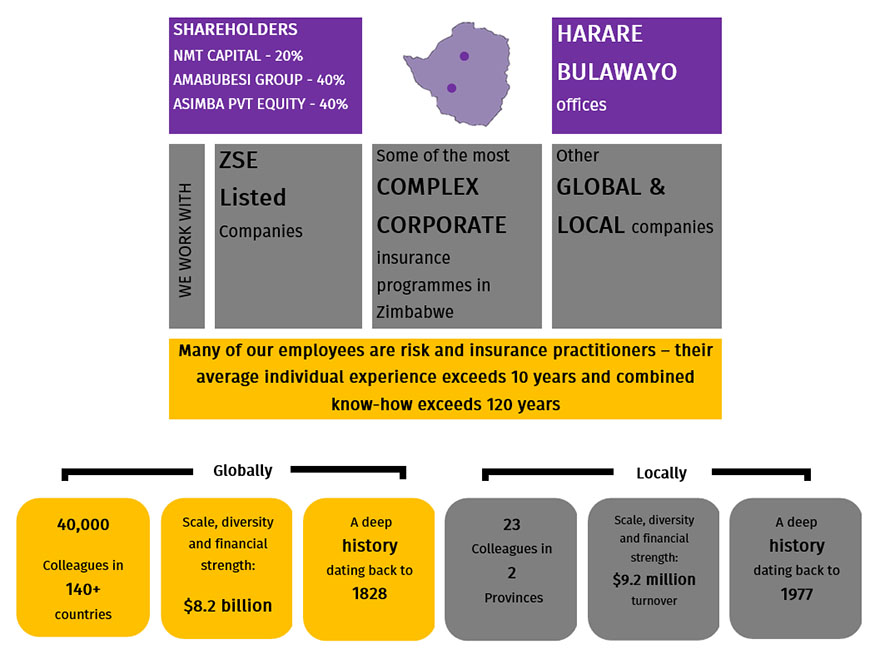 Our Competitive Advantage
By market share we are one of the top insurance brokers in Zimbabwe. We have grown by applying our skills where they make the biggest difference for clients - it is this focus that differentiates us from our largest competitors. We pride ourselves on the highest levels of professionalism and diligence, combined with senior-level attention to clients and relationships. Such commitment has gained us an exceptional reputation.
A Company with Integrity
By working with WFDR Risk Services, you'll be working with a broker who adheres to the very highest standards of ethics.
More Reasons Why WFDR
We are compliant to the laws of the nation, industry regulation and corporate governance at large
We have over 40years experience in the field
We make it our business to understand yours then we design and deliver services & solutions based on a genuine appreciation of the commercial realities you face.
WFDR Risk Services offers you a full range of products and services to tailor-make a solution to meet the needs of your unique world.
We offer free risk management surveys and free claims workshops
We design and manage loss reporting procedures.
We monitor risk performance and advise on mitigatory  measures throughout the insurance period
We maintain historic insurance records and monitor statistical information which will be used in betterment of your risk profile
Our service is backed by a service level agreement; you therefore determine the minimum performance standards we will apply on your portfolio.
We realize that accidents and incidents don't only happen between 8am and 5pm. That's why we have a 24hour broking team you can get hold of anytime.
Our Staff are friendly, going the extra mile to develop quality personal relationships with clients.  Thus we are able to give Insurance advice and have the client's perception of risk and value add