Claims Management Services
Getting full and proper settlement of claim is a challenge for most business entities therefore we believe broker services should be judged by the quality of its claim handling ability.
In today's time preparing & presenting a claim can be a complex and time consuming process.
We have established a good reputation across our clients in handling property, business interruption, project, liability & employee related claim. By inculcating highest possible standard of services throughout the claim process this includes claim preparation, presentation and fast & effective step by step guidance to client which leads to an efficient settlement & claim collection process. Our client receives the same level of focused commitment and expertise during the claim as it was when they first purchased the policy.
We have earned unparalleled success in speeding up the claims process and ensuring that the value of the claim is optimised, whilst reducing your time and involvement in the loss.
Our service includes:
Claim preparation
The way that data is presented to insurers is the key to optimising claim recovery. We know precisely what information insurers require and we present it the way that they demand. This speeds up the process ultimately resulting in timely claim realisation.
Managing the Claim process
The quality of your claim presentation and supporting documentation is critical to a successful settlement. We will:
Minimise the time you spend in claim preparation
Secure prompt stage payments to help manage your cash flow
Expedite settlement to save time & cost
Claim settlement modelling
We develop understanding with insurers on how to expedite major claims.
These agreements are designed to ensure that all parties understand both the scope of the policy and the detail of claims process.
Trend Analysis
We monitor and track your loss experience over the years which enables us come up with risk management solutions that address your unique loss experience
Loss Support Services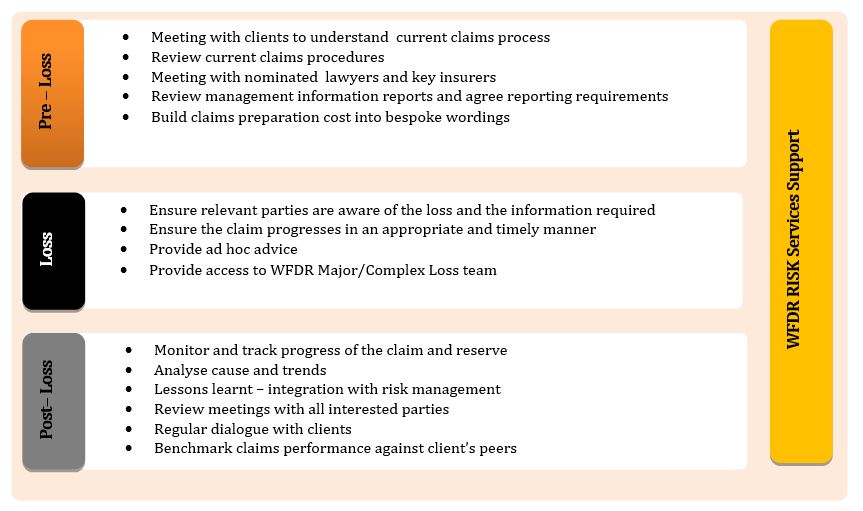 Major Loss Support
A major complex loss can be very disruptive and require significant management time. In the event of a major loss WFDR establishes a dedicated project team, led by your client advocate and consisting of policy and claims experts. The team will manage the process quickly and effectively, including support at on-site meetings with stakeholders, provide advice and support as required.